Photos from the demonstration and conferences on software patents in Brussels, April 14th-15th 2004
After we won our
initial fight
, and convinced the European Parliament to pass amendments to the legislation on software patents explicitly banning them, the European Commission and Council responded with their "conciliation" version that removed all of our amendments. So back we went, along with my camera. On the first day (14th April 2004) there was a demonstration in the morning, and a series of conference panels on software patents in the afternoon. On the second day (15th) there was a short session introducing the concept of GNU/Linux User Groups (G/LUGs) to MEPs, an install party (GNU/Linux onto MEP computers!), and panels on fair use, Free Software and other related issues.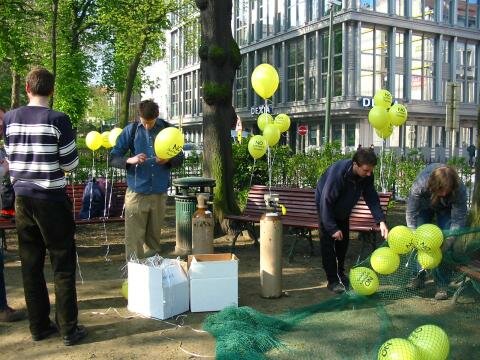 We arrived early for the demonstration, and began to blow up balloons.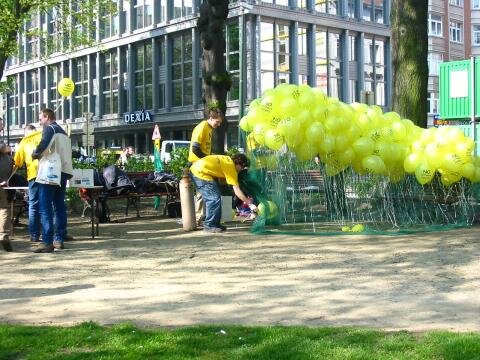 By the time we'd finished, we'd blown up somewhere between 400 and 500 balloons :)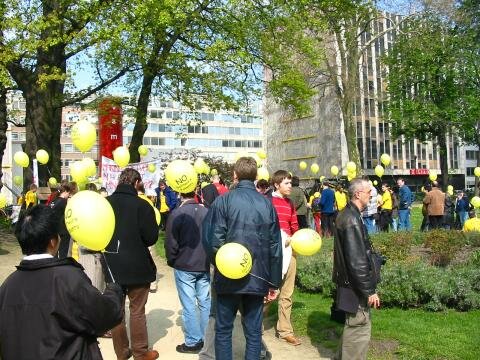 People started to arrive and we switched to balloon distribution.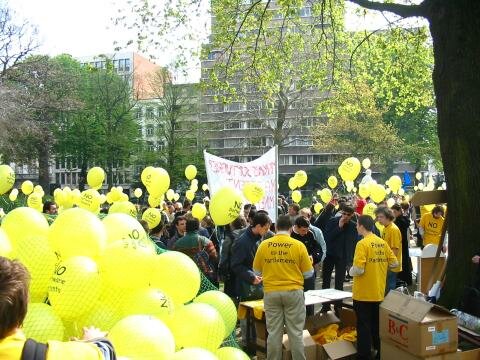 Another show of people milling around. The FFII were selling t-shirts from the stall at ?5 each; in the end, almost everybody there seemed to be wearing a t-shirt and carrying a balloon!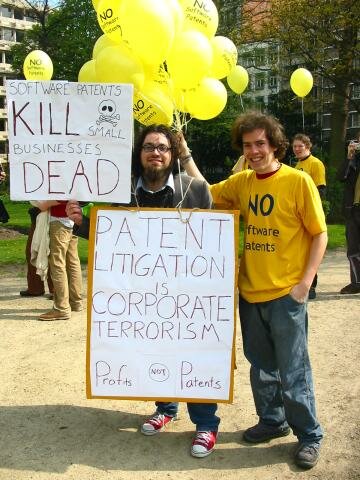 We spotted this man with a truly bizarre slogan. Maybe a little over the top and misleading, but we award him plenty of points for wearing a sandwich board!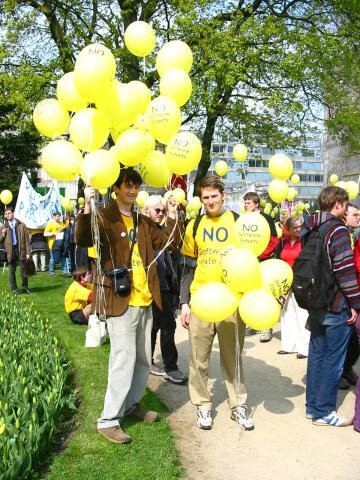 A shot of Robert and I giving out balloons to new arrivals. Kids were especially appreciative; each person said something to the effect of "thank you" in their own language, so we just smiled back, or tried a "d'accord"!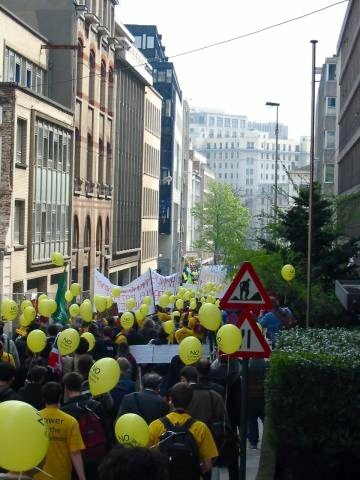 Aha! So there is more to demonstrating than handing out balloons, you say? We went on a fun circular route around Brussels to the European Commission's offices.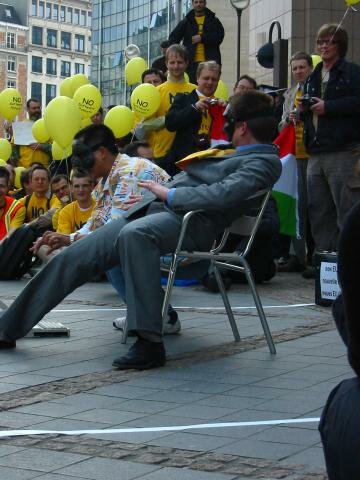 At the end of the march, three people put on a very funny pantomime. You had a hacker (colourful shirt), a big businessman (suit), and the EU (black suit, out of shot). The businessman kept trying to stifle the hacker, and the EU would step in saying "fair play!". But then the businessman bribed the EU, and all of a sudden "fair play" took on quite a different meaning.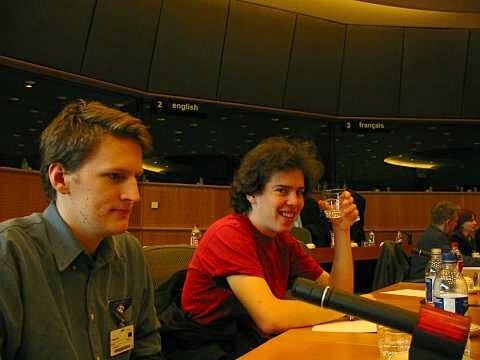 Robert and Edd inside the European Parliament, in conference room AS1G1. The booths behind them are for translators who handled the miltulingual problem; we had to speak into the microphones on the desk.
The first panel, which discussed "Recent developments in the granting and use of ICT patents". consisting of Jozef Halberstadt, Adrian Lozano, Bernd Herd, Burak Canboy (win.rar), Jean-Paul Smets, Roland Orre and Joerg Wittenberger (not in that order in the photo).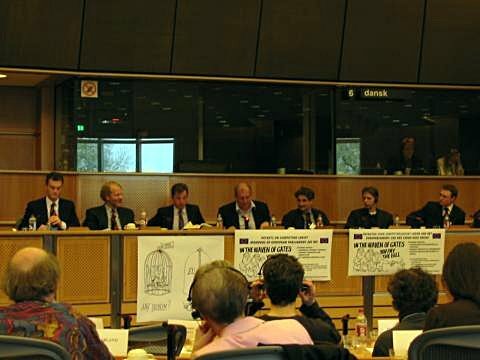 The second panel, which discussed "EU legislation benchmarking". The speakers, from left to right, are: David Sant (European Patent Office), Reinier Bakels (Centre for Intellectual Property Law, Utrecht University), David Ellard (European Commission), the chair MEP, Philippe Aigrain (software entrepeneur), Christian Beauprez (software entrepeneur, law scholar) and Georg Jacob (law scholar at Salzburg University).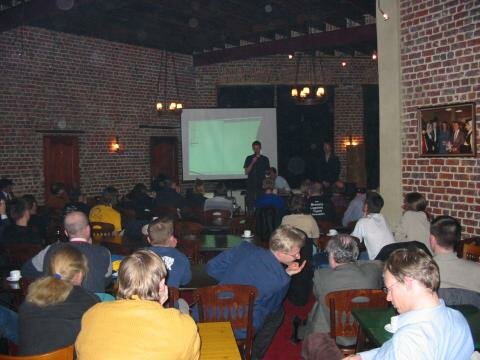 The FFII's AGM, held in a restaurant after a very nice dinner.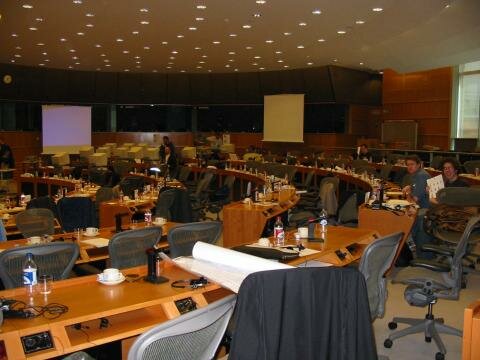 Another shot of the conference room.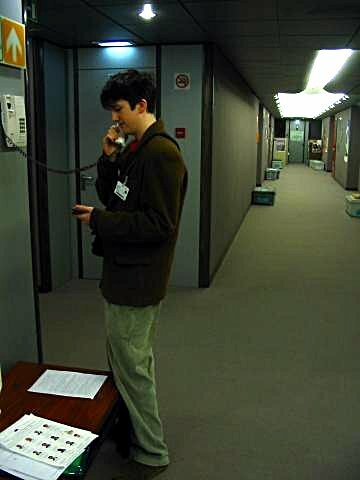 In between sessions, we snuck up to the Green's area of the building to phone our MEPs, hoping to arrange more meetings. We managed about four more personal meetings on the 15th.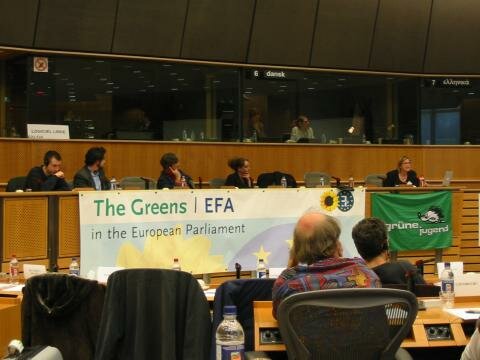 The first panel on the 15th, discussing fair use. The panel, from left to right, consists of: Jon Lech Johansen (DeCSS), Andrea Glorioso (Firenze Technology, Italy), the chair MEP, Laurence Lebersorg (Test-Achat, a Belgian consumer rights group), Yann Meniere (missing from photo) and Gwen Hinze (EFF Attorney).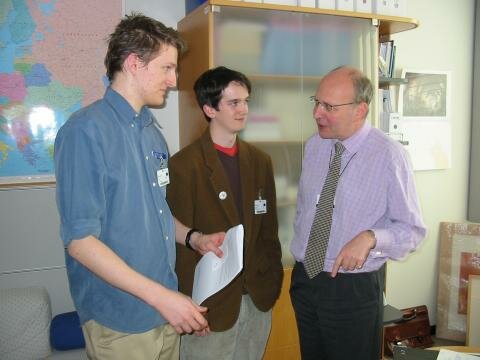 Just so you don't think we're lying, here's a photo of Robert and I meeting Andrew Duff, one of the MEPs for the East of England. He's a Liberal Democrat, and seemed pretty much on our side.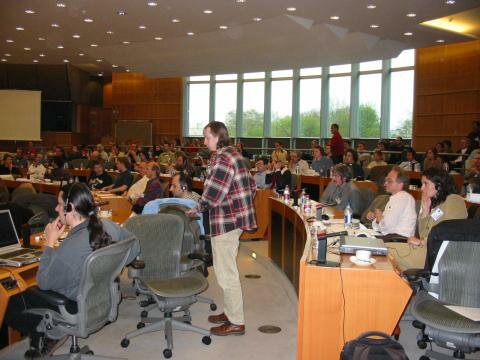 It's an exciting looking room, isn't it?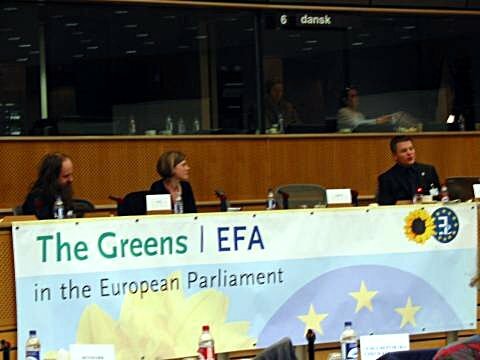 The final panels, with (from left to right), Alan Cox (linux.org), Laurence Vandewalle (chair, MEP's assistant) and Georg Greve (President, FSF Europe).