A month-long holiday around Western Europe, June 2002
Tarro and I saved up enough money for a train pass for a month, and went around Western Europe on a shoestring (literally, it was bread, water, sitting in parks and visiting free galleries). My camera broke, so most photos were very blurry, hence the stylised look of some on this page. I could only find worthwhile pictures from Paris, Barcelona, Munich and Frankfurt am Main, though we visited (in order) Paris, Barcelona, Madrid, Toledo, Strasbourg, Munich, Frankfurt am Main, Heidelberg, Cologne (Koln), Amsterdam, Brussels and Lille.

Tarro standing in front of the Eiffel Tower in Paris.

A zany sculpture in Barcelona.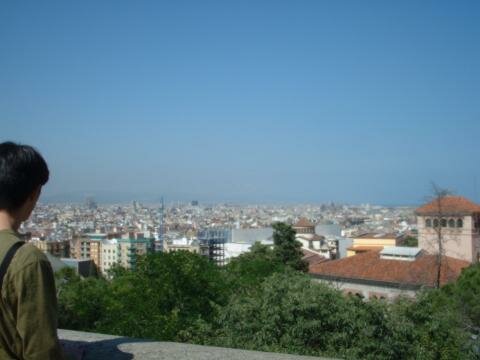 Tarro looking out across Barcelona from the Royal Palace.

A large (~30 people) sleeping hall in a Munich youth hostel.

A striking memorial to the dead in Dachau concentration camp, outside Munich

Another memorial: "May the example of those who were exterminated here between 1933-1945 because they resisted Nazism help to unite the living for the defence of peace and freedom in respect for their fellow man"

A nice photo contrasting the old and new architecture in Frankfurt am Main.

I think this is of a picturesque town square in Frankfurt am Main.